News & Аctivites
NEW & NOW!!!
2014-05-01




Do You know what is Kizomba?






​Remainding you about changes in schedule:


04.05 (Sunday), 05.05 (Monday) - studio is closed.
06.05 (Tuesday) - studio open from 20.00 (adults group).
After this dates we go back to usual schedule.

2014-04-22


​

Beautiful improvisation by the Tango dancers

We are happy to invite you to our NEW GROUPS. Everyone from age 5 to 120 is welcome. Registration by phone 054-7655-993 (Liana), 054-7454-047 (Andrew). The lessons will take place in our studio from SEPTEMBER 2013 on each Tuesday, at 17:00 for children 4-6 years old, at 18:00 for children 7-12 years old and at 20.00 for adults (map). Looking forward to see you!!!

2014-01-15
​Hot Little Spicy Salsa

2013-12-20
Dear puples & parents! We wish you a Marry Christmas & Happy 2014 New Year. Let all your dreams come true,
have a lot of love, wellness and happiness!
Note that on
31 of December, 1 & 2 of January the studio is closed.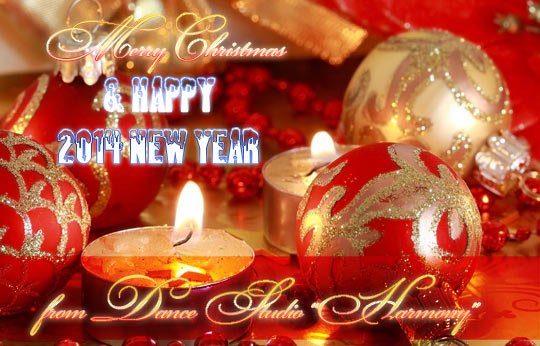 2013-10-20
Cute Little Dance

2013-10-10
Singing Angel - 10-years old Jackie Ivanchio

2013-09-10​
Roberto Kel Torres - Historia De Un Amore

2013-08-05
Madonna's Backup Dancers Performance

​2013-07-28
With A Piece Of Chalk

2013-06-27
What a beauty & a grace!
2013-05-08
How to invite to Dance Class


Whiteys Lindy Hoppers - Hellzapoppin
2013-04-07



Evolution of Dance By Judson Laipply
2013-03-05



Academy Awards 2012 — Cirque du Soleil Performance
2013-02-04




Pumped Up Kicks - Dubstep
2013-01-29
Michael Malitowski & Joanna Leunis - Rumba 2012
2012-12-22
Unreal Argentinian Tango

2012-11-21
Our friends, Arkadi & Natalia
on the American "Dancing with Stars"

2012-10-17
Three Cool Breakers


2012-10-16
Beautyful Short Movie about
Sport Dancing in Russia by Evgeny Yashin


We are on TV project of 9 channel "Everybody Dancing!"

Our pupil - Eddy & Ailara are Winners of the
"Dancing with Children" progect on the 2 channel
2013-07-11
We are happy to invite you to DANCE PARTY!!!



It will take place on July 11, at 19:00 in Merkaz Aba Houshy,
address – Ameginim 131, Kiryat Eliezer, Haifa.
In the program: professional dance show, cozy dance hall, a lot of fun and music that you love, drinks and appetizers.
Looking forward to see you!!!